When:
September 13, 2017 @ 6:00 pm – 7:00 pm
2017-09-13T18:00:00-05:00
2017-09-13T19:00:00-05:00
You're invited to Uninvited!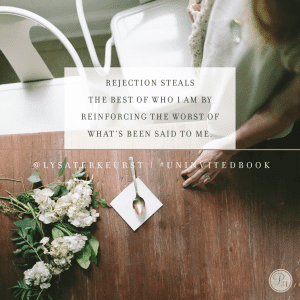 Okay, that sounds a little crazy, but I want to let you know about the new women's study beginning Wednesday, September 6 from 6-7pm at Memorial.
I am excited to lead the study called Uninvited, taught by Lysa TerKeurst. You may know her from Proverbs 31 Ministries, She Speaks conferences, or the First5 App. She's a great writer, and an engaging Bible study teacher too — and this study is filmed in the Holy Land!
So I have three questions for you…
Have you ever felt less than, left out, or lonely?
Are you struggling with past or current rejections, or feel consumed with seeking the approval of others?
Do you want to learn to live loved – truly loved – by God?
If so, this is the study for you! And I'd love to do it with you!
The details
Study runs 13 weeks: 9/6-12/6 Wednesday evenings, 6-7pm
Thanksgiving break 11/22 – No Class
Childcare provided
Sign up by emailing me at jen@awisewomanbuilds.com or call the church office.
Course materials include an extensive study guide and the book Uninvited at a cost of $17 per participant.
Make checks payable to Memorial Baptist Church and be sure to add in memo line: Women's Study.
Want a sneak peak? Check it out here!
Facilitated by Jennifer Rogers